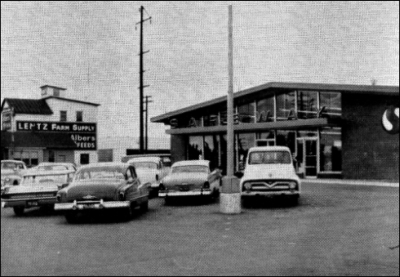 This photo of Safeway and Lentz Farm Supply is just one of 91 that are shared in the Tella-Pix section of the Courier-Times, in Issue 59.

---
Optional Subscribers Journal online. Click here for a peek at these recent issues.

Issue 59, December 2011

Courier-Times Tella-Pix photo features from 1950s-'70s
*Part 1, Clothing Stores and others
*Part 2, Autos, service stations and others
*Part 3, Grocers, Furniture stores, TV, Appliances, Jewelers and others
*Part 4, Restaurants, Food, Dug Stores and others
*Part 5, Professionals, Hardware, Barbers, Beauty Salons


More Issue 59 features
*Norm Lisherness, Sedro-Woolley's beloved chief of police.
*New information discovered about one of Woolley's most influential early leaders, George Green, who attracted at least 75 more emigrants from Lincoln Center, Kansas, the town he founded. His son-in-law Emerson Hammer became state senator from Skagit county.
*John Savage, Birdsview painter, son of George Savage, whose autobiography he shared



Recent issues: Issue 58, November 2011:

Joseph F. Dwelley, Whidbey and Skagit pioneer, 1870
*Our new portal section to the Dwelley and Maloy families, three generations of pioneers.
*Introduction to Joseph F. Dwelley and our Discovery of the Decade, the original 1933 manuscript of his autobiography
*Kate Dwelley Maloy, interviewed by Lucile McDonald in 1959, re: her family


Portal to all Lucinda and Glee Davis family links
*Dolly Connelly's 1955 Seattle Times article about the Davises and their life in the mountains as well as later years in Sedro-Woolley.
*The North Cascades and future Hwy 20
*Glee Davis' manuscript from his days at Cedar Bar in the North Cascades: "A Dugout *Canoe Over Sour Dough Mountain"
*1948, 1959 and 1967 predictions of the "North Cross-State Highway," now Hwy 20, by Glee Davis and the Sedro-Woolley Courier-Times.


More Issue 58 features
*Joseph H. Sartwell, first permanent, Skagit settler, 1863, South fork
*New portal section to all our stories and research about the earliest settlers in what is now Skagit county
*Photo tour of Gilbert Landre's famous 1892 cabin/hotel near Cascade Pass.
*1940: Skagit soil rated the best in the nation
*The Bingham family of old Sedro attracted more relatives and emigrants from Marengo, Iowa
*"See Mud on Tree — Build Higher" — how that phrase came about, between Upper Skagit Indians and 1878 Sedro pioneer Joseph Hart